Faber Center - For Ignation Spirituality

March 29, 2011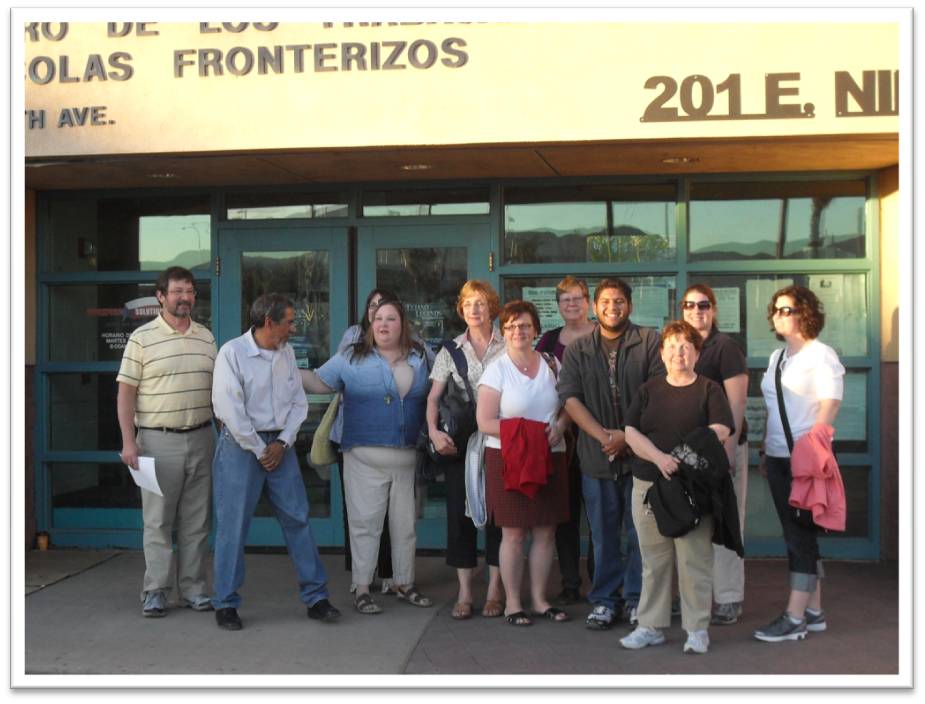 Greetings from Milwaukee...needless to say, we are missing you and everyone at the Women's Intercultural Center. We arrived home safely to very cold weather and hit the ground running with work to do.  It's been a week now since our return from Anthony and the Border Awareness Experience, but the events of the week with you are still very vivid in our hearts and minds.  We were inspired by everyone with whom we can in contact and learned so much about the people of Anthony and El Paso and the complex issues of immigration.
Please accept and extend our very grateful "Thank You" to everyone who made our experience all that we could have hoped for and more. It is evident that much thought and planning has gone into preparing and offering the BAE. Teresa and Saif are truly professional in their approach yet bring things down to a very personal level with their input and lived experiences.  The complexities of immigration were brought home through visiting with, listening to and sharing time with all those involved from the migrants themselves to those who rose from the ranks to further their cause and fight for justice and basic human rights, to the government officials who work with all involved.
Congratulations to all of you who make the Women's Intercultural Center what it is today as it continues to inspire individuals to believe in themselves and carry on the work of those who came before them.  We look forward to continuing our relationship with you!
We will be in touch again once we get our programming for next year set.  Until then, please know that we continue to keep all of you in our thoughts and prayers. May God bless you all and hold you in His care as you yourselves hold and care for those in your community and beyond.
With peace and gratitude
Kathy Coffey-Guenther & Ellen Blonski
The Women's Intercultural Center opened my eyes to the issues on the U.S./Mexico Border. From touring with Border Patrol, visiting nonprofit organizations, staying with host families, the Women's Intercultural Center provided us with the knowledge that we needed to be informed persons in society. I think that this center is the best way to learn about these issues, and I wish that everyone could experience the border in the way that the Women's Intercultural Center has developed its Border Awareness Experience." amtison [www.greatnonprofits.org]
"I came here with my college through the Border Awareness Experience Program and I must say my life was changed forever. I never knew how the Border and Immigration Issues could affect our entire nation. I didn't know everything that these people go through  working so close to the border. Everything that happens across the border affects their city. We got to learn from different organizations and learned how they viewed the border and immigration issues. Best part is we were also given a tour by the U.S. Border Patrol and were able to talk with them one on one. I mean how many people can say they've done that. They took us all around the border and showed us their operations it was amazing just being able to ask them any questions we felt we wanted an answer to. There wasn't one question they wouldn't answer and they were very open with us as well. I loved the experience and our coordinator Saif was amazing he was very knowledgeable in immigration issues and he had grown up on the border all of his life. Just hearing his experiences and what he believes could help the issue was amazing. Learning from him was an incredible part of the experience as not only was he very open and honest, but he was funny and was always willing to make this our experience the way we wanted. Thank you to the Center and Saif for being so amazing." Alice Wonders [www.greatnonprofits.org]
In January I brought 4 students from Siena College to participate in the Border Awareness Program. The program far exceeded my expectations. The groups that we met with and the sites that we toured really gave us a broad picture of the border issues and the complex geography between El Paso and Cuidad Juarez. Teresa Nevarez was an exceptional host and guide. I plan to take a group back there next year. — Sienna  [www.greatnonprofits.org]